15 February 2023
Celebratory moment for expansion SPARC during Innovations Insight
During Innovations Insight, the showcase event of student projects in the hybrid learning environment of the Fontys ICT InnnovationLab, SPARC was also able to celebrate. Namely, 3 new partners joined our cooperative, which will become part of our growing innovation network. Welcome TNO, Veiligheidsregio Limburg Noord and DAF!
Innovations Insight
With this champagne moment (which of course could not be missed during the ceremonial signing), we end a series of online moments made necessary by the lockdowns. On site, representatives of TNO, Veiligheidsregio Limburg Noord and DAF were present to sign the partnership agreement. To clinch it, a symbolic certificate was also handed over for on the 'home base' of these new SPARC members. Several members were present at the event, where students presented the results of their expiring semesters. On behalf of SPARC, board chairman Martin Hundepool and treasurer Johan van den Heuvel were present at the signing. The winning project was also later selected by a jury, which included both of them. Monique Esselbrugge, alderman for education, mobility, city centre and Design district of Eindhoven municipality, presented them with the award.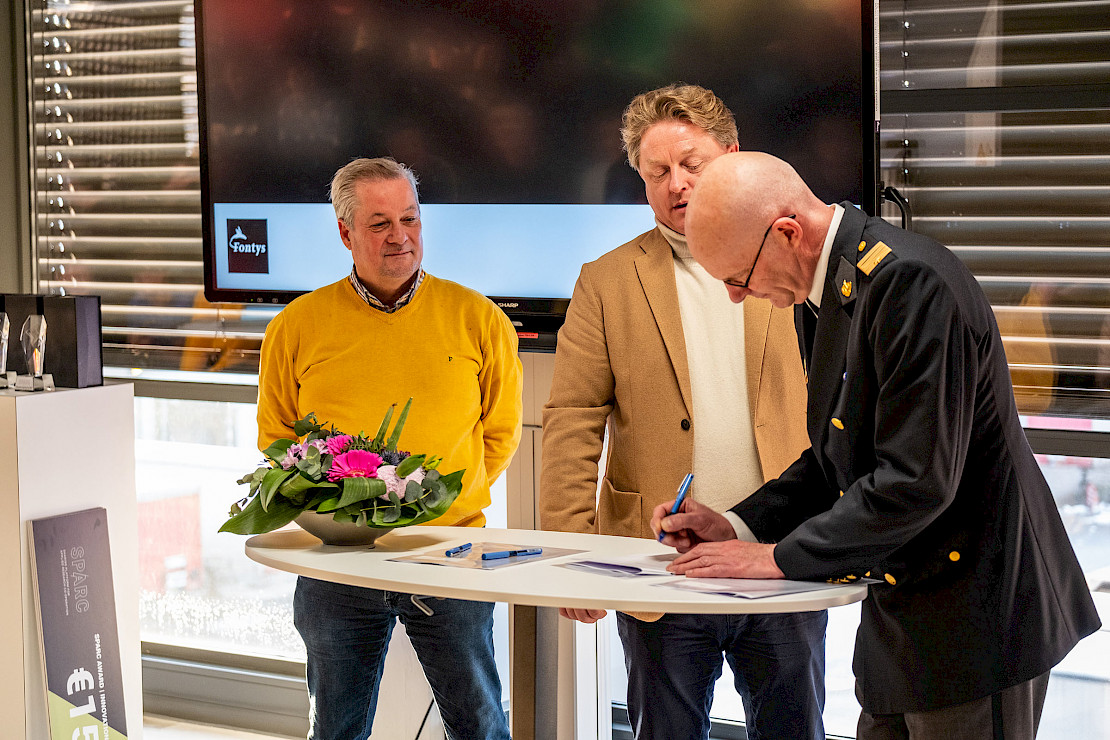 Partner network
As brand-new partners in our network, the three organisations can now officially call themselves 'Partner in Innovation' and SPARC members. This means that they contribute to and invest in the development of applied research and education at Fontys in the field of ICT. All three of them then also place projects in the Fontys ICT InnovationLab. TNO is starting AI-related projects, within the minor AI for Society. The Veiligheidsregio Limburg Noord has already carried out a project within the cyber security specialisation and DAF is getting to work on software engineering. We look forward to seeing the results at the next edition of Innovations Insight.