2 June 2021
European Commissioner impressed by Eindhoven's higher education institutions
On May 31, 2021, European Commissioner Mariya Gabriel visited Eindhoven together with Minister Ingrid van Engelshoven and State Secretary Mona Keijzer. This was to discuss the unique cooperation between research, education and business that makes the Brainport region's unique innovation chain possible. Students and researchers of Eindhoven University of Technology and Fontys University of Applied Sciences presented examples of collaborative work. In her closing speech, Ms Gabriel expressed being impressed by the work of the institutions: "We want a more inclusive programme, and here we have a great example of how to work together with companies, researchers, professionals and young people."
Unique ecosystem
The visit to the Brainport region is at the invitation of Minister of Education, Culture and Science Ingrid van Engelshoven. Here, one can see an ecosystem that displays the way forward both officials believe in, explains the Minister: "What both I and the European Commissioner try to stimulate are very good ecosystems where you get a lot of innovation through cooperation. That leads to new activity and new earning power. This region is the best example of that in Europe." According to Van Engelshoven, this has everything to do with the innovation chain, within which research, application, and business reinforce each other: "I want to show Europe the potential of applied research, which is why I am happy that we can organise this at Fontys. Applied research is essential to find solutions for the challenges in Europe."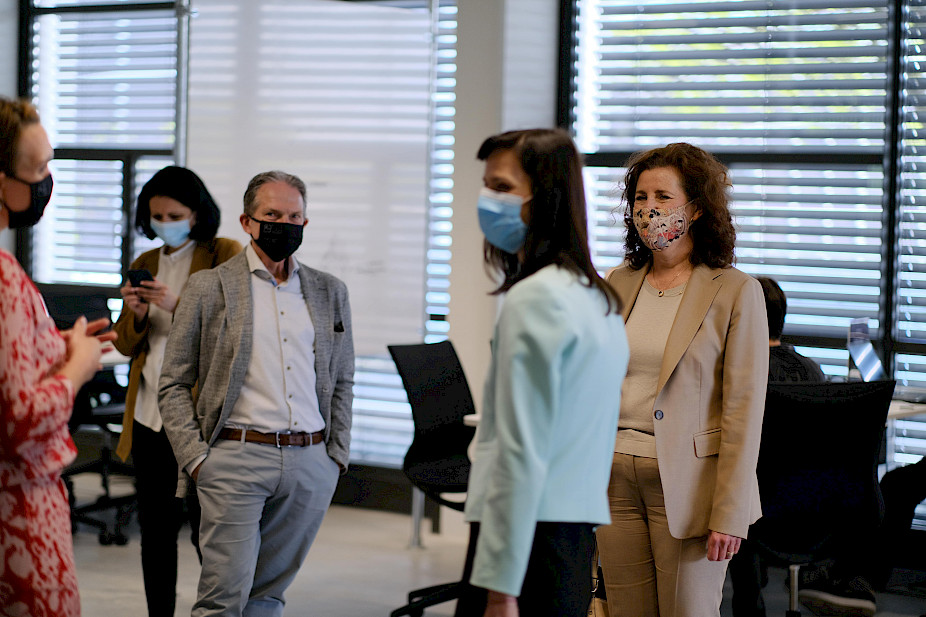 Commitment to European cooperation
The start of the afternoon at Strijp-T was a lunch discussion with (among others) Robert-Jan Smits (President Eindhoven University of Technology), Rianne Letschert (Rector Maastricht University) and Mayor John Jorritsma. Two topics were central: European science policy and the role of innovation ecosystems, and improving the system of awarding prizes to scientists, which is currently still based mainly on the number of publications. "We conveyed the commitment of Brainport to European cooperation and the European agenda to the officials", says TU/e chairman Robert-Jan Smits. "We were also able to make clear that as far as Brainport is concerned, the Netherlands is meeting the European agreement to invest three percent of its GDP in research and innovation. At the same time, investments must continue to be made at the European level in 'key enabling technologies' that will ensure our earning capacity for the future."
Application as the link between research and market
Following lunch, the group visited the Fontys ICT InnovationLab, the hybrid learning environment of Fontys Hogeschool ICT where students, researchers and field partners work together on application issues. An important form of connection and collaboration in the innovation chain, according to Rene Wijlens, executive director of EPSI (European Platform for Sport Innovation) and Fontys research partner: "Within the Q-helix Innovation Cluster Sports & Technology, we experience in our projects and activities the added value of collaboration and short lines of communication between applied knowledge partners, (SME) companies, governments and end users to successfully offer innovative solutions for societal issues around sport and vitality. The easy connection from knowledge to expertise to cash register is a key factor in realising innovation projects that have an impact in practice."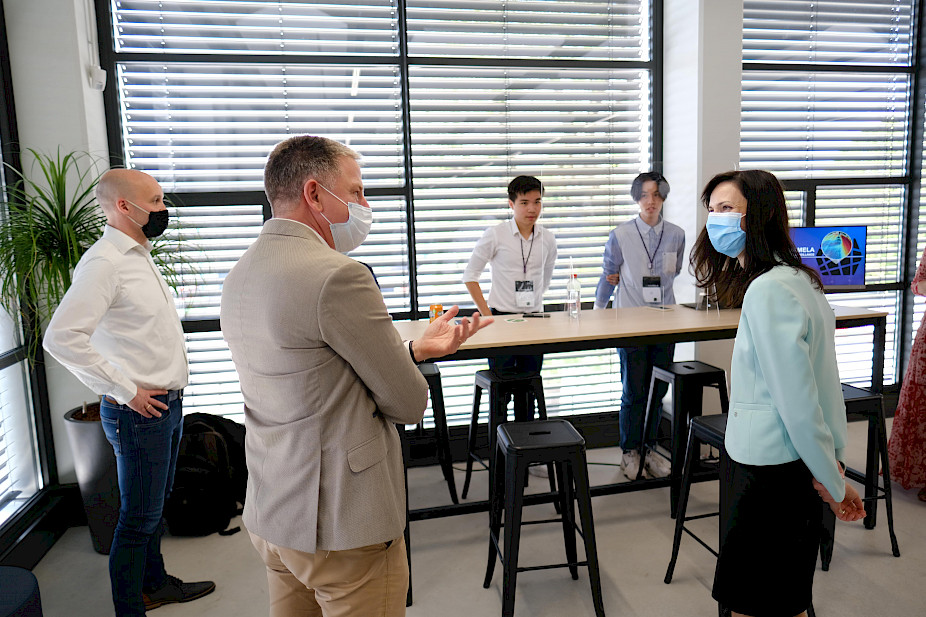 After a word of welcome from Joep Houterman (chairman of the Fontys Board of Governors) and Ad Vissers (director of Fontys University of Applied Sciences ICT), the commissioner and minister attended various presentations on the applied research into artificial intelligence, the educational vision and the new Fontys lectureship Moral Design Strategy by Bart Wernaart, which will focus on ethical challenges. An important part was also a round along a number of student projects related to AI applications. Both administrators engaged in an enthusiastic dialogue with the students. In conclusion, Joep Houterman addressed the visitors with a challenge: "We believe in a free exchange of use and a free exchange of information, so that we can stimulate learning and innovation. That starts with the basic value that we can be open with each other, that we can be safe. I would like to challenge you, to make it happen that we as UAS can play an ever greater role in both education, but also in concept development, innovation and research. Because I believe that we have a great challenge ahead of us in which we can play a role. And I hope we have been able to show you that today."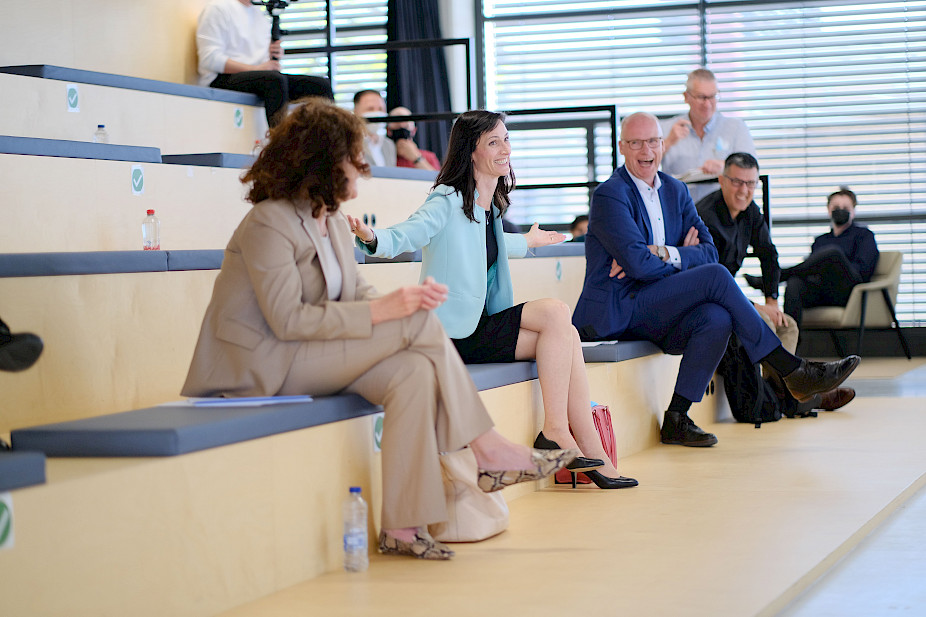 Unlocking the creative economy
On leaving the Fontys ICT InnovationLab, Commissioner Gabriel said she was impressed by what was happening in the Brainport region. Gabriel: "We need concrete ideas, we need to identify our strengths as Europeans, and form leadership through synergy and partnership. Innovation lies at the heart of it, but there is a huge potential that we can unlock". Brainport can be an example here. Gabriel: "That means investing in innovation. With the Creative Europe Programme, we want to start creative innovation labs. What I see here is a direct contribution to that."