Introduction and main research question
The knowledge environment realised by Fontys University of Applied Sciences ICT (FHICT) at Strijp TQ, also known as the Fontys ICT InnovationLab, is characterised by authentic collaboration with Partners in Innovation and research groups. Students work in project groups on real issues from professional practice. In 2018, TQ4 of the InnovationLab was commissioned by FHICT. In 2019, another floor was added: TQ5. Now, two and a half years on, we can partly answer the main question:
'What impact does the knowledge environment that FHICT is realising at Strijp TQ have on the student success and learning outcomes of students and teachers, knowledge creation and knowledge transfer with the business community and the recognised identity of Fontys in the region as a knowledge institution, and under what financial and organisational conditions are the objectives being realised?'
Limitations by covid-19
An important limitation is that during the research period the InnovationLab faced the effects of covid-19, which meant that for almost the entire research period (March 2020 - July 2022), the location had limited access and many ambitions were temporarily paused. This made it difficult to provide conclusive answers to the main and sub-questions. More time is simply needed to gain the necessary experience. Nevertheless, a lot of knowledge has been gained and important conclusions can be drawn.
Conclusions
The impact of the knowledge environment on students is quite large and generally positive: students work together in a very authentic environment on meaningful issues. They learn a lot from this when it comes to collaboration, communication and stakeholder management. They often feel approached as young professionals and grow in that role. At the same time, as students, they sometimes feel a bit lost in the dynamic and free environment, and feel the need to develop their technical ICT skills. For students with support needs, particularly autism spectrum disorder, the impact of the building and teaching is often less positive because of the need for peace and structure. For lecturers, the impact is also significant: there are many opportunities for self-fulfilment of duties and new (research) initiatives. Because of the search for a new role to shape and a feeling of lack of time, their own professionalisation sometimes comes under pressure.
The InnovationLab has a positive impact on knowledge creation. The knowledge environment mainly attracts students and teachers. To make optimal use of each other's knowledge and expertise, a more intensive presence of work field partners is desirable. The spatial context supports project-based collaboration through the many project tables and meeting rooms. Making experimentation visible and cross-pollination deserve attention; this does not happen by itself. The InnovationLab is also a suitable place for sharing knowledge because of the open space, which can be flexibly transformed into a room full of stands where a large audience can be welcomed and the various stages where knowledge can be presented. The knowledge created becomes more relevant to partner companies as projects transcend semesters and there is sufficient coordination with/within the project team. In the future, knowledge transfer could take place on an even larger scale.
Fontys wants to profile itself as a knowledge institution, but is still mainly seen as an educational institution by representatives of the professional field in the Brainport Region. Sometimes as a combination of educational and knowledge institution. By housing education off campus, in professional practice, Fontys sends a positive signal to many companies in the Brainport Region. By being more visible and nearby, Fontys strengthens the connection between education and professional practice, according to them. To be seen as a knowledge institution, more profiling is needed and Fontys will have to share its knowledge more often/actively with the professional field. The InnovationLab offers the facilities to contribute to this.
What is generally striking is that the InnovationLab as a location is in line with FHICT's education and research concept and fits the image of an innovative knowledge institution. An important lesson that runs like a thread through the results is: spatial facilitation alone is not enough; in order to give substance to a new way of learning, working (together), researching, cross-pollinating, sharing knowledge and meeting, extra direction and stimulation are needed. The basis has been laid, an environment is in place where students, teachers, researchers and partners in the field are eager to be meaningful. And it can. Thanks to this study, we also know which knobs to turn to make even better use of the potential of this location in the future.
The main insights in ten points (Dutch only)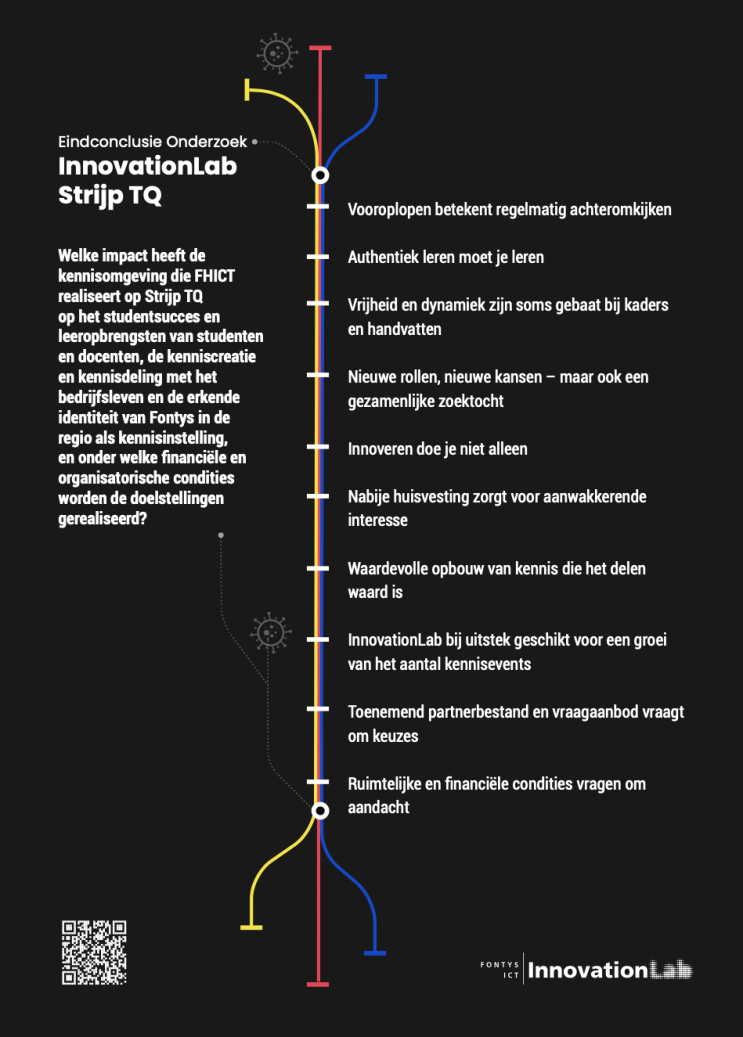 ---
Key stakeholders looking back and forward
At strategic level
Video Frens Vonken
Frens Vonken, director Fontys University of Applied Sciences ICT, on the InnovationLab:
Video Suzanne van Kuijk
Suzanne van Kuijk, site and implementation manager, on the InnovationLab:
Video Boudie Hoogedeure
Boudie Hoogedeure, member Development Team Strijp-T, on the InnovationLab:
Video Martin Hundepool
Martin Hundepool, board chairman Sparc, on the InnovationLab: