Research theme:

Interaction Design
Through the decades, technology has become part of almost everything we do in our daily lives. From household devices to workspace equipment and (personal) entertainment. The ongoing process of digitalization has in recent history also transferred a lot of transactions of information and data to the digital realm. Think of your taxes, public administration, banking, subscriptions & memberships, but even our social interactions take place in the virtual realm and perhaps in the not so near future in the metaverse. All of these digital pathways we walk, require an interaction between human beings and machines, they require interfaces, controls and feedback systems. That's the area of interaction design, yet it also extends to the emergence of digital humans and how we cope with these as society.
Events
Open Day Eindhoven
Saturday, 4 November 2023 | 10.00 - 16.00h
Open Day Tilburg
Sunday, 5 November 2023 | 10.00 - 16.00h
Giving shape to an inclusive digitalization
The purpose behind interaction design, as a special focus area, is reducing the digital knowledge gap we see emerge in the world. The way we design our interactions determines the level of inclusivity and accessibility our society facilitates. In turn, it has an impact on our interactions amongst ourselves and the way we engage with institutions and organizations. Interaction design is everywhere, and its importance grows as enhanced reality and the metaverse take hold of way of life. Our students, researchers and partners contribute to a sustainable and inclusive digitalization, through applied research projects in a wide range of industries. From technologies to help the elderly interact with their new homes to tools to solutions that lower the threshold in using modern administrative systems, our learning professionals are able to use their talent and fresh insights to shape the future.
Interaction design concerns itself with user experience and user interaction design, as well as with gaming/gamification or aspects such as sound or visual design of human-computer interactions. All with the purpose of enhancing experiences, that bring an inclusive digitalization forward. 
The purpose behind interaction design, as a special focus area, is reducing the  digital knowledge gap  we see emerge in the world.
Curious to find out more about Interaction Design?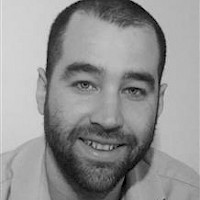 Sjoerd de Man
Coordinator